Want to renovate your home? We Renovate Group explain the whole process, from start to finish with a comprehensive guide.
You have decided to improve your home after assessing it and how you want to live in it. But where do you start if you want to renovate? From the pre-planning phase to the punch list, you must decide your priorities. You can find out the best ways to complete the project and build the structure in accordance to your wishes. You should read our well-researched apartment renovations checklist to make your dream home.
Checklist for home renovation in Sydney: Before Renovation
1. Set your home renovation goals and your budget.
Home renovation projects can be an exciting and rewarding endeavor. However, it is important to set clear and realistic goals prior to beginning any project. Think about what you want to achieve from the renovation and how you want to use the new space.
With clearly defined goals and an appropriate budget, you will be well on your way to a successful home renovation project.
Best Tips: Make sure you understand what you need to spend and what you have budgeted for the project.
2. Identify your renovation "must-haves" and "nice-to-haves"
Make a complete list of tasks, from the floor to the ceiling. Determine your must-haves ; these are the reasons that drive you to renovate. These are the items that must be checked for going through your renovation checklist before the job is considered completed.
Then, write a list of actively desired items that you have no problem giving up if only some are afforded. (Also, know that sometimes in order to fit a need, you might have to give up a favorite or wants-to-be need. )
3. Hire a renovations team
If you are demolishing structures, plumbing, or gas lines, or working at a historic site, you will need to hire an architect and general contractor. The contractor from your We Renovate Group can advise you about this and connect you to the architect they recommend.
Schedule an appointment with people to whom you're particularly attracted.
Review bids and reduce cost if necessary by letting go of items not on your "must-have" list
WeRenovateGroup is the best renovator to match each project's location, budget, scope, and style. Follow the blog, successful Stories, for apartment renovation ideas and inspiration, and when you're ready to renovate, start your renovation with us.
4. Communication and paperwork
Your contractor can advise you of an open communication plan that you can use in your project, and you can add it to your contract.
Set out the payment process, including the planning process, in the contract.
You can set a cushion for hidden expenses or unforeseen expenditures of ten thousand francs.
Check your apartment alteration agreement if you reside in an apartment. You should review what alteration restrictions live there.
Update your home insurance policy.
5. Practical considerations
If you have children, consider relocating during a remodel. Depending on issues with health or mobility, decide egress is the best strategy.
Consider your future and consider where you would like to live, eat, shower, and make love.
Cover furniture and shelves; use plastic wrap to contain dust from entering the rest of the home; use humidifiers to keep dust from spreading.
Renovating a house checklist: During the renovation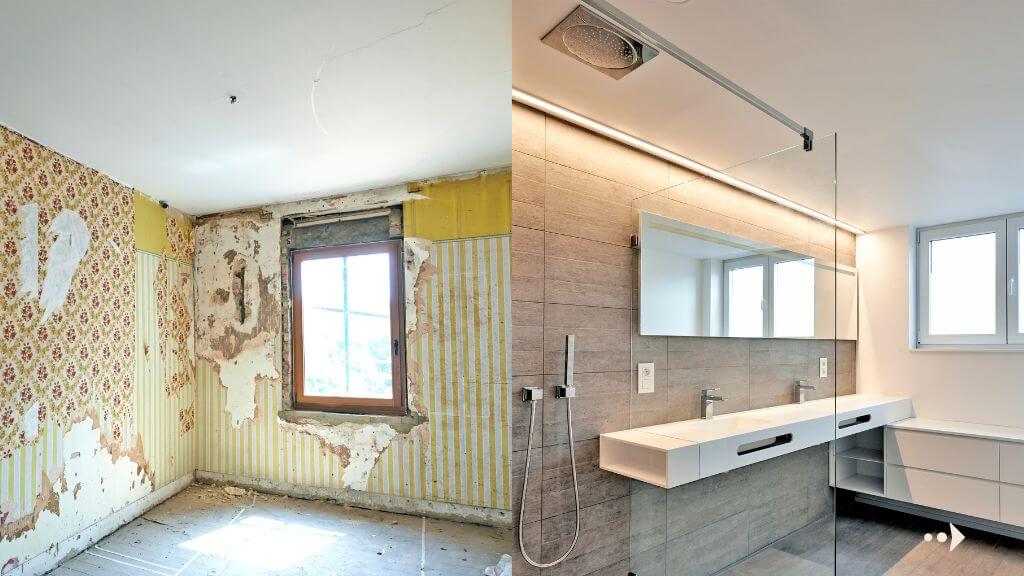 6. Schedule and conduct calendar check-ins with your contractor
Arrange for a 5-hour maximum weekly from your contractor as quickly as possible, including arranging for the needed fixtures, appliances, and other items. Be mindful of products with long lead times.
Get ready for A LOT of detailed questions on such things as electrical outlet locations, the height of shower head and lighting, the direction doors should swing open, etc.
7. Use your renovation punch list to assemble your renovation plan
Million Dollar Contractor We Renovate Group has great advice for the final walk-through: At the end of the remodeling project, leave a notepad in each altered room. Don't communicate with your contractor for two weeks. Then, live in the space and note down anything the buildings need changing or fixing. That's the punch list. Your contractor should come back to the space and review the punch list.
Follow Apartment Renovation Cost – to know an estimate for your house renovations
Apartment Renovation Checklist: All items at a glance
When planning your apartment renovation, the following list can help you.
Kitchen Renovation Checklist
– Appliances
– Range vs cooktop and oven
– Refrigerator
– Dishwasher
– Microwave
– Hood
– Sink
– Faucet
– Water Filter
– Instant Hot Water
– Garbage Disposal
– Fixtures
– Cabinets
– Countertops
– Accessories
– Flooring
– Backsplash
– Lighting
– Switches
– Outlets
Bathroom Renovation Checklist
– Toilet
– Tub
– Shower Head for Tub
– Tub Filler
– Tub Doors
– Shower
– Hand Shower
– Shower Head
– Doors
– Shower Drain
– Shower Floor
– Tiles / Finish for Shower
– Shower Pan
– Shower Niches
– Vanity
– Vanity Top
– Lavatory Sink
– Medicine Cabinet
– Lighting
– Outlets
– Switches
– Ceiling Finish
– Floor Tiles or Finish
– Wall tiles or Finish
– Waterproof Membrane
– Heat Mat
– Accessories
— Toilet Paper Holder, Towel Bars, Grab Bars, Handels
– Ventilation
Top things for your home renovations project
If you're taking on a home remodeling project, it's not just about the technical steps you'll need to take! Don't forget to account for the emotional impact of remodeling and prepare yourself for the journey. Even small tasks like painting a room or sprucing up your patio can be stressful – and when it comes to larger projects like plumbing or electrical work, it's important to be especially mindful.
Here are some ways to keep things as zen as possible:
Must Find the wrong thing where you're going. you can make a good plan from trusted resources or the best contractor.
Learn the art of compromise. Getting everything you want out of a renovation is not the norm. There may be restrictions such as your home's structure or your financial capacity that could impede the process. However, if you're willing to do some searching, it's possible to come to a satisfactory compromise.
Prepare to move out during the renovations. Renovations can be quite a hassle – they can be loud, messy, and disruptive. It might be best to steer clear, especially if you're renovating a large part of the house. You could stay with friends, rent a hotel room, or even take an extended vacation for the duration of the project. Read on for more information about this.
Notify your neighbors. It would be polite to alert your neighbors that there may be increased levels of sound and activity in your vicinity due to forthcoming events.
Have a security plan. What measures will you put in place for employees entering and exiting your home? Will you need to provide them with a set of keys, or will an alarm system suffice? Consider what will happen when they leave every day.
Home renovation good-to-knows
Understand there may be delays
Whether it's an issue with the building, a permit hold-up, or materials not arriving on time, delays are a reality.
Be flexible with contingency plans and work with your contractor to understand the issues and get through the hurdles
Get in touch with We Renovate Group for Apartment renovation needs
Are you searching for a contractor who has over 5 years of experience in apartment renovations sydney? Contact a skilled firm like We Renovate Group when you need help with your residential renovation project. We're able to address all your needs and prioritize your vision for your space.